AIWA's History Spans Three Decades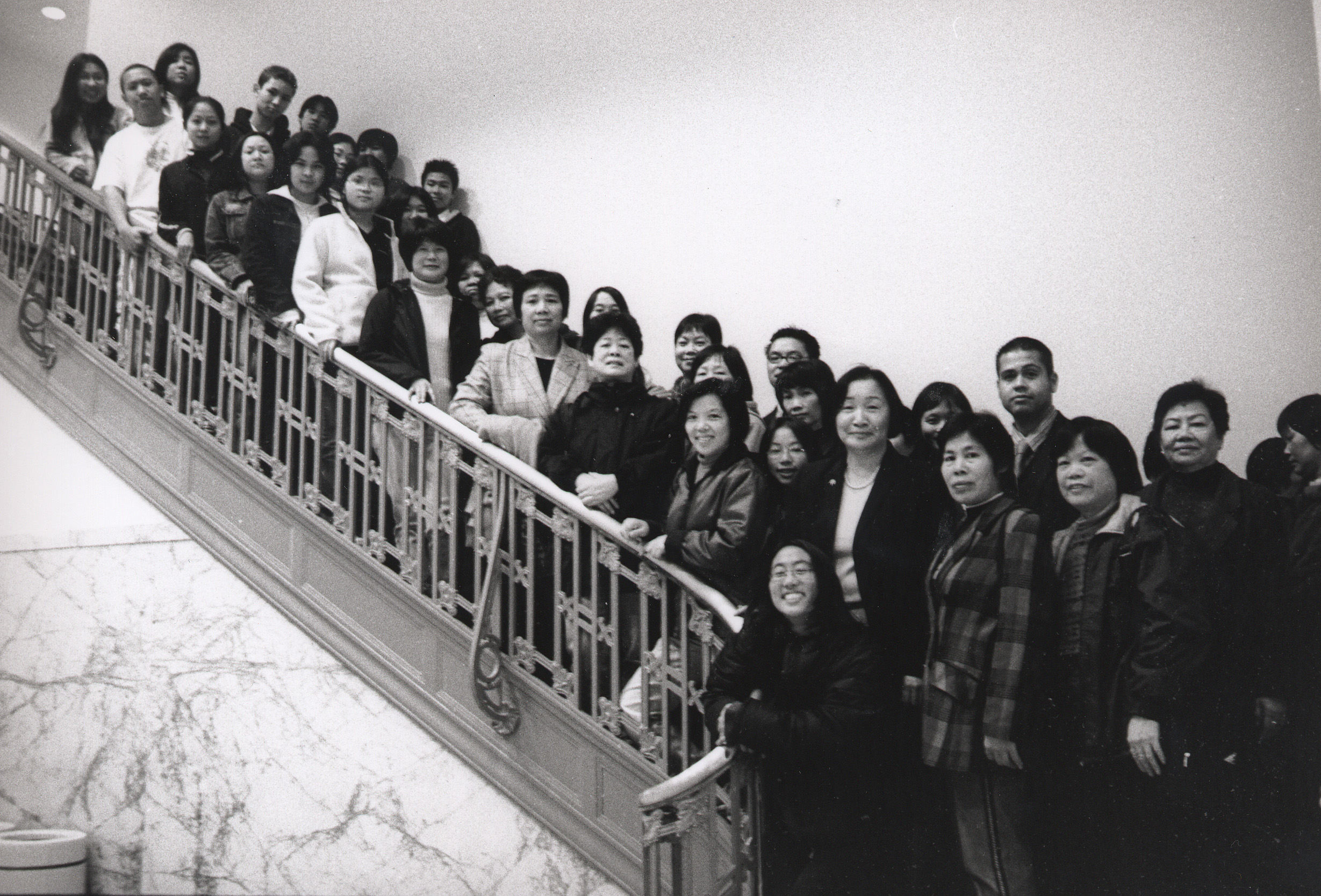 As a community based organization, AIWA is primarily concerned with developing the collective leadership of low-income immigrant women and youth to organize for positive changes in their living and working conditions. Since 1983, AIWA has focused its programs in three major areas: Education, Leadership Development and Collective Action.
Over the years our members have built an extraordinary list of accomplishments—especially given that the work has been conceptualized, organized and carried out by limited-English-speaking, low-income immigrants. Some notable examples of our successes include:
1992-98  The Garment Workers' Justice Campaign focused on dressmaker Jessica McClintock, Inc. for failing to monitor subcontractors' wage and working hour violations and demanding that she accept corporate responsibility. This campaign resulted in an agreement including a historic phone hotline for workers to report labor violations, and helped raise a national movement around corporate responsibility.
1999  The Community Equity Campaign secured equal access to government-owned facilities for low-income community members to hold literacy classes and meetings.
In that same year, testimony of immigrant Chinese AIWA leaders was critical to passing the California Underground Economy Bill (AB 633), requiring manufacturers to ensure that subcontractors pay their employees.
2002-2004  Along with the San Jose policy group Services, Immigrant Rights and Education Network (SIREN) and legal nonprofit Equal Rights Advocates, AIWA formed the three-year High Tech Collaborative to address low-wage abuses faced by immigrant women in the Silicon Valley electronics industry.
2002-2006  The Ergonomic Improvement Campaign identified unsafe garment workstations and worked to develop low-cost solutions. AIWA members won funding for the first-ever Chair Lending Library. This campaign inspired continued efforts to bring about industry-wide change by replicating our ergonomic workstations in more factories around the state.
2004-2006  AIWA youth engaged in a successful School Campaign, which triumphed in the creation and hiring of the first-ever bilingual community assistant to serve the needs of Cantonese students and families at a high school with the district's highest concentration of Asian immigrants.
2006-2008  The Language Access Campaign advocated for multilingual translation of outreach and enrollment materials from the State of California's Major Risk Medical Insurance Program (MRMIP), a safety net program for patients who are unable to secure coverage for pre-existing conditions elsewhere.
2008-2009  AIWA youth worked in coalition on the A-G Campaign to successfully change high school graduation requirements in order to meet minimum college entrance requirements. AIWA youth members developed orientation materials for English Language Learner (ELL) students, to guide them through the University of California's A-G entrance requirements. The guidebook was translated to six different languages and youth worked with school personnel to implement an orientation schedule for all ELL students.
2006-2009  AIWA women were excited to lift their voices and weigh in on the debate surrounding national health care. They enthusiastically met with coalition partners, conducted surveys and community training sessions, and also testified to the critical importance of language access in health care service delivery.
2009-2011  AIWA youth initiated a Biliteracy Campaign to formally recognize all students who can demonstrate proficiency in two or more languages. This campaign encouraged the development of all global citizens while raising awareness of the contributions and talents of immigrant youth.
2011  To strengthen and deepen social justice movement building efforts, AIWA began to share our leadership model CTOS (Community Transformational Organizing Strategies) with other organizations, academia, supporters and allies locally, nationally and globally.
2008-2013  AIWA began to document CTOS Grassroots Leadership program and assess its socioeconomic and political impact for the past 25 years, which produced three published articles in Kalfou (2010), SIGNS (2013) and Immigrant Women Workers in the Neoliberal Age (2013).
2014  To foster a broader dialogue about the importance of leadership development for disenfranchised communities as a long-term strategy for social change, AIWA began a multi-city film tour of our documentary Becoming Ourselves, which tells the story of how immigrant women and youth transformed into leaders that successfully advocated for improved conditions in their workplaces, schools, and communities.