Letter From Executive Director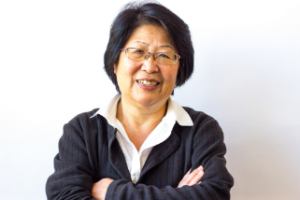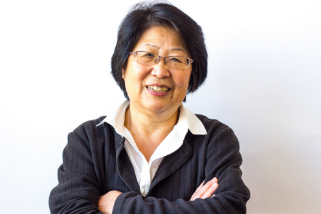 February 24, 2017
Dear Friends and Supporters,
It's hard to believe it has been over 30 years since I started my journey with Asian Immigrant Women Advocates (AIWA).  I still remember going to a hotel in San Francisco and listening to the room maids' stories of humiliation when a young boss yelled at them, and talking to seamstresses who were eating their lunch at the doorstep of a locked gate of a garment factory about potential programs that AIWA could offer.
As I prepare to leave my role as Executive Director and reflect on our accomplishments, I am touched, humbled and so very grateful that I have been a part of AIWA – a progressive grassroots organization that has always pushed the envelope in shifting the social paradigms to advocate for the rights of immigrant women and workers.
Over the past three decades, AIWA has engaged in many historic campaigns and programs that have made a difference in the lives of thousands of low-wage working women.  Immigrant garment workers and supporters launched the Garment Workers Justice Campaign sparking the movement for corporate responsibility from apparel manufacturers, and galvanizing Asian-American students all across the nation.  Encouraged by the success of the Jessica McClintock Campaign, immigrant women, joined by immigrant youth, held the City of Oakland accountable to low-income communities, and created the Community Access Fund.  This fund provided equitable and fair access to government-owned space where low-income immigrant women can develop their leadership and literacy skills.  Immigrant youth conducted the "I have something to say!" campaign which demanded that their school hire bilingual assistants not only for Chinese but also for Spanish-speaking students so that they could enjoy equal opportunities for their academic pursuits.
As well, AIWA women leaders, in collaboration with the California Department of Health Services and UCSF, proactively developed a viable solution to their century-old suffering of back, neck and shoulder aches by designing an ergonomic garment workstation for the garment industry. Equipped with lived-experience and knowledge of workplace health and safety, immigrant women leaders continue to outreach, educate and train immigrant women workers on ergonomics, workplace violence, and fall prevention.  Workshops are held in Chinese and Korean in partnership with OSHA.
I am also very excited about AIWA's future after my transition.  With our enduring leadership framework, the organization is in an enviable and unique position to take another leap into our next level of organizational development.  This leadership model called CTOS (Community Transformation Organizing Strategies) will provide data driven tools and resources to support current and upcoming immigrant women and youth to continue to stand up for their rights.  We are even building a CTOS app!  In this era of ever-increasing anti-immigrant and anti-refugee sentiments and oppressive policies — key organizing leaders from the ranks of AIWA are ready to step up and continue to lead AIWA's work.
Equally important, AIWA has a committed cadre of immigrant women and youth leaders who are actively guiding the organization's mission and programming.  It is so exciting to see home care workers collecting petitions, and meeting with the Alameda County staff to demand the translation of their work-related materials into Chinese.  AIWA women leaders also inspire me by expanding AIWA's reach to new and budding communities like newly-arrived refugee women from Nepalese and Lu Mien communities.
Last but not least, AIWA has an impressive and experienced Board that is well-positioned to shepherd AIWA during these tumultuous times throughout the nation.  As well, our dedicated and talented staff are committed to support the grassroots organizing and leadership development of immigrant and refugee women and youth.
Once more, I thank all of you who have supported me during my tenure at AIWA.  We have shared many amazing, sometimes challenging, but always heartwarming, and wonderful times.  I am looking forward to my new role as a supporter of AIWA, and upholding and sustaining my commitment to the powerful, extraordinary, and exemplary work of immigrant and refugee women and youth.  I will continue in my role as Executive Director while the Board Search Committee works on finding my replacement.  I will then move into a support and resource role during the new Executive Director's first 100 days to ensure the organization's continuity and stability during this important transition.
As the search begins for a new Executive Director, I hope you will help us find the right candidate to take AIWA's work to the next level. If you have any ideas or questions about the job announcement, please email: info@aiwa.org with subject line "Executive Director Search". See the full job announcement here.
From the bottom of my heart, my sincere gratitude to all of you, and I hope you will join me in strengthening our commitment and support to AIWA.
All Best,
Young Shin
Founder and Executive Director